Fractures of the distal femur are increasingly common injuries with an estimated incidence of 10 per 100,000. This study will investigate the commonest fracture subtype - fragility fractures sustained by elderly patients after a fall from a standing height, often as a consequence of osteoporosis.
Latest participant recruited from:
Queen Alexandra Hospital, Portsmouth
Date of most recent recruitment:
Friday, 14th July 2017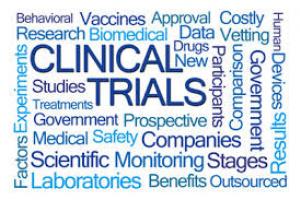 6th May 2017:
A new amendment has been approved by REC to extend recruitment until the end of July!
14th Mar 2017
The independent data safety monitoring committee (DSMC) have met for the second time, and the trial steering committee (TSC) meeting will take place in April. Any recommendations from the oversight committees will be made available after the TSC meeting.
13th Feb 2017
A warm welcome to Haroon Majeed and the team at Royal Stoke University Hospital (University Hospitals of North Midlands NHS Trust), who have opened to recruitment for TrAFFix.
30th Jan 2017
Sharon Siddons, Ashwin Kulkarni and the rest of the team at Leicester Royal Infirmary have doubled their target and are the top recruiters for Jan 2017! Congratulations!
Seven sites now open to recruitment!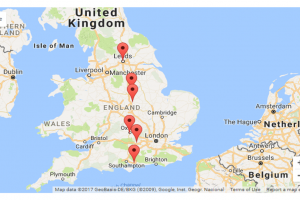 Seven sites are now open to recruitment:
John Radcliffe Hospital, Oxford
Queen Alexandra Hospital, Portsmouth
Royal Berkshire Hospital, Reading
Leeds General Hospital
University Hospitals Coventry & Warwickshire
University Hospital Nottingham
Royal Stoke University Hospital
Trial Management Team
Trial Manager: Robin Lerner
Administrative Coordinator: Charlie Vicary
Data administrators: Hannah Ashby, Asima Qayyum
Chief Investigator: Xavier Griffin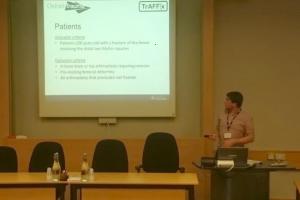 All patients admitted with a fracture of the distal femur should be screened against the eligibility criteria:
Inclusion criteria
Patients will be eligible for this study if they:
are ≥50 years old as a surrogate for bone-density and therefore fragility fracture,
have a fracture of the femur involving the distal two "Muller" squares,
would, in the opinion of the attending surgeon, benefit from internal fixation of the fracture.
Exclusion criteria
Patients will be excluded from this trial if they have:
a loose knee or hip arthroplasty requiring revision,
pre-existing femoral deformity,
an arthroplasty that precludes nail fixation.